Solution Tape has originally been developed for the aircraft- and aerospace industry. The high demands in this industry resolved in a high-quality repair tape. One of the developers' goals was to create a multifunctional tape to suit many purposes. Hence the name Multi Solution Tape.

After the introduction of Multi Solution Tape a new version of this tape was developed for the use on PVC fabrics. PVC has the habit to absorb moisture from applied tapes and adhesives. Through a small recipe adjustment, the developers created the unique PVC Solution Tape. This tape is used over 10 years now and we regularly receive reactions from customers stating that repaired spots remain very nice and tight after so many years.

Solution Tape unique features:
- Resistant to water, salt, sand, wind and sun
- UV-resistant and prevents fading
- Remains airtight and does not dissolve
- Resistant to extreme perforation and expansion
- Suitable for all colors (matt-transparent)
- Adapts to uneven surfaces
- Prevent further expansion of tears
- Easily cut and processed

Solution Tape sets in new watertight sealable bags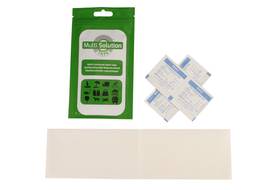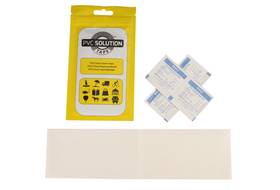 Solution Tape is matte transparent and applied to white unprinted paper.

Please visit the corporate solution section to find out more about our additional services. Finally, you will find a number of realistic images in the case studies section.